Blue Tower and Canada Israel: The Far-Reaching Horizons of a Real Estate Success Story
Two decades ago, Barak Rosen and Assaf Tuchmeir were promising real estate agents at the beginning of their careers. Eventually, they decided the time was right to go out on their own in order to capitalize on their combined daring and dreams. They learned that by starting out at entry level positions, they had a distinct advantage because they knew firsthand what people are looking for in real estate. They founded Penthouse Real Estate and from that launching, they continued to demonstrate their professionalism, vision, and reliability as they transformed their life's work into a bold success story. Their current project, Blue Tower, demonstrates how nimbly they've been able to expand their expertise into global partnerships, as their Canada Israel enterprise pursues its goal of developing and enhancing properties on a wide-ranging map of projects.
See an amazing apartment in Blue Towers Tel Aviv
The Blue Tower in the Real Estate World
Rosen and Tuchmeir have proven that with drive and experience and a solid reputation for excellence, real estate is a thriving arena for success. The Blue Tower project exemplifies the Canada Israel strategy of "Different and Better" which promotes an architectural vision that's not restricted to blueprints or property lines, but instead includes quality of life. They believe that, when the construction is done and the building is occupied, the primary goal is meeting the expectations of the people who live and work within their creations. Success that's build on a foundation of the interpersonal connections forged with clients, partners, employees and investors is what enables Canada Israel to thrive. Investors are thrilled with the results, as they benefit from the Canada Israel expertise. With extensive assets that include both residential and commercial projects in prime locations in Israel and North American, Canada Israel's reputation has established the company as a leader in the real estate field.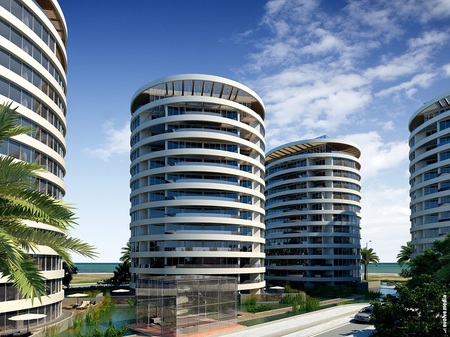 The Blue Tower Blue Tel Aviv Vision for Quality of Life
The Different and Better concept understands the existing trends in the market and is also able to predict future trends, so that customer satisfaction and investment productivity work together for a final result that pleases all sectors of the project.
The viability of the Different and Better real estate strategy is vividly demonstrated in the Blue Tower Blue Tel Aviv design. Architect Ilan Pivko has incorporated the dazzling natural beauty of the Tel Aviv landscape with its accessibility as a commercial hub to develop an exceptional design, making it possible for residents of the prestigious 300 apartments in the six-building complex to calculate their proximity to the center of the city or to the beach within a five-minute trip or a two-minute walk. Inside the complex, apartment residents will relish the luxurious amenities that include pools, deck paths, gardens, a gymnasium, spa and treatment rooms, and country club services. This private neighborhood will provide an environment that's designed to fulfill the Canada Israel belief that quality of life is just as important in real estate as it is in any other facet of existence.