Live Right in a Tel Aviv Apartment
A talented agent understands that real estate isn't just about finding a client a place to live; it's about discovering the Tel Aviv apartment that suits the client's lifestyle. At Neot Shiran, we lead the way in Israel's high-end real estate market, with an extensive network of international contacts. Thanks to our discerning, efficient professional agents and consultants, we're quick to adapt our search profile to meet the exact needs of our clients in order to locate the luxury property that you're seeking. The Tel Aviv real estate market offers a dazzling opportunity to live and work in an environment that's customized to suit your business needs, your leisure interest, and your cultural preferences. You can be sure that the apartment that we find for you will offer everything you want in luxury living space.
Take a Look at Our Tel Aviv Apartments
To give you a better idea of what we mean, we invite you to consider several of our Tel Aviv apartments. Located right in the heart of the town and adjacent to Rothschild Boulevard, our Jaffa apartment overlooks the recently restored water tower and landscaped park. With two full bedroom suites and a study; a well-lighted living room; a luxurious kitchen; a work room; and 24-hour security, this apartment delivers the atmosphere, quality and standards that you're looking for. It's the only apartment on the floor, but the buzz of Rothschild Boulevard guarantees that quiet doesn't mean dull. This apartment blends the evocative charm of Old Jaffa and the tireless energy of a city with a never-ending to-do list.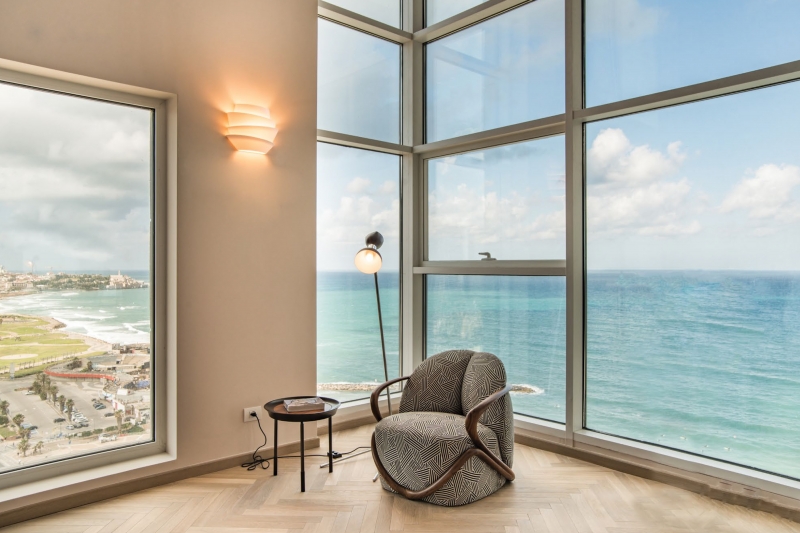 An appreciation for luxury doesn't mean that you have to sacrifice space. Our huge, single-story, elegantly decorated apartment located in a luxury boutique building near Gan Ha'ir
has a roomy, well-lighted living room; a top-of-the-line kitchen; a sun porch; swimming pool and exercise room; storage rooms; home automation; an elevator; underground parking; and 24-hour security.
These are just two of the examples of the luxury that awaits you in any of our Tel Aviv apartments. At Neot Shiran, we understand that your appreciation for luxury is part of the discernment that you bring to your lifestyle. It's not enough to just live; that style has to go along with it.
With over twenty years in the real estate field, it's not surprising that we've learned how to deliver luxury to our clients and Tel Aviv apartments are uniquely designed to serve up the amenities and the ambience that you're seeking in your home. It doesn't matter whether beachfront is your priority or whether you want to be able to feel the pulse of the city in your work and leisure, a Tel Aviv apartment serves up the complete package. As you would expect from a company with a wealth of experience in real estate satisfaction, our agents, who are renowned for their complete discretion and professionalism, know how to tailor the transaction to your needs.
We invite you to live the lifestyle that's waiting for you in one of our Tel Aviv apartments.